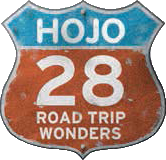 The not-so-beaten-path can be more fun
Let Scottsdale be your next stop
We're back again with 28 more Road Trip Wonders for you. This time our sights are set on Scottsdale, full of so many happy spots to explore. Make Scottsdale, AZ your next road trip destination with help from our HOJO hotels.
Tovrea Castle
Resembling a wedding cake or castle, Tovrea Castle at Carraro Heights has a rich and interesting history
Mesa Arizona Temple
The Mesa Arizona Temple is the seventh operating temple of The Church of Jesus Christ of Latter-day Saints.
Frank Lloyd Wright Spire
An architectural beacon, right in the intersection of Scottsdale Road and Frank Lloyd Wright Boulevard.
Desert Botanical Gardens
1 of only 44 botanical gardens accredited by the American Association of Museums.
ASU Art Museum
The single most impressive venue for contemporary art in Arizona.
Heard Museum
The mission is to educate the public about the heritage and the living cultures and arts of Native peoples.
Mac Alpine's Soda Shop
Take the whole gang to Mac Alpine's Soda Fountain for quality, fresh, home-cooked meals at great prices.
Barrio Cafe
A little neighborhood eatery providing authentic southern Mexico cuisine.
Posh
What is POSH? It's improvisational cuisine thoughtfully composed of modern and seasonal ingredients.
Terms & Conditions

*Blackout dates and other restrictions may apply. Rates shown valid as of 01/01/2017, may change based on check-in and check-out dates, and are subject to change or termination at any time. A reservation modification may result in a rate change. Please check with your hotel as terms may vary at individual hotels, and additional fees may apply.