Explore United States National Parks With Sleepy Bear
Follow Sleepy to Travelodge Hotels near Famous National Parks
In partnership with the National Parks Conservation Association, our ambassador of adventure Sleepy will take you along for the journey as he spends each month exploring a National Park and all of its surroundings. On his trip, he will cover the history of the park, fun facts, things to do in the area — and of course — his favorite Travelodge hotels nearby. Throughout the month of March, Sleepy will be exploring Colonial National Historical Park in Yorktown, VA. 
Plan ahead and save 15%.* Plus get 100 Wyndham Rewards bonus points.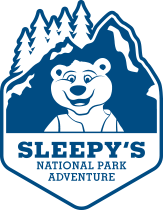 Colonial National Historical Park
Learn about the past in this historical setting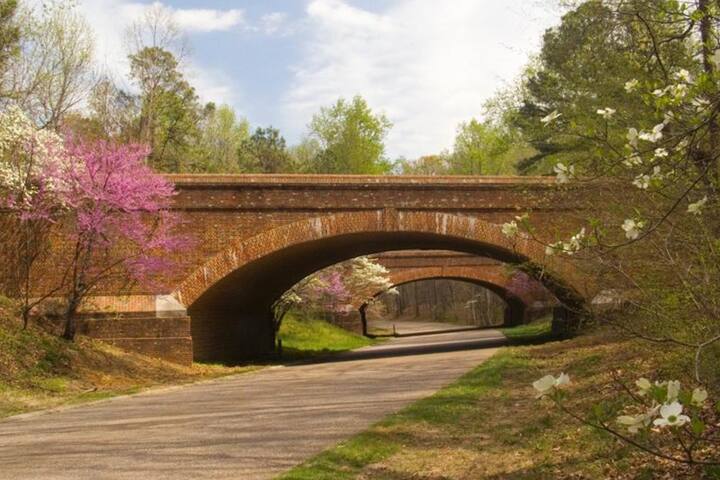 Park Snapshot: Colonial National Historical Park
On May 13, 1607, Jamestown was established as the first permanent English settlement in North America. Three cultures came together – European, Virginia Indian, and African – to create a new society that would eventually seek independence from Great Britain. Historic Jamestown is where the story of Captain John Smith and Pocahontas actually happened, and where the roots of American government first took hold. On October 19, 1781, American and French troops defeated the British at Yorktown in the last major battle of the American Revolutionary War. Today at Yorktown Battlefield, visitors can still view some of the original earthworks constructed by George Washington's troops. These two sites are linked together by the 23-mile long scenic Colonial Parkway, specifically designed to limit the impacts of the roadway on the surrounding landscape.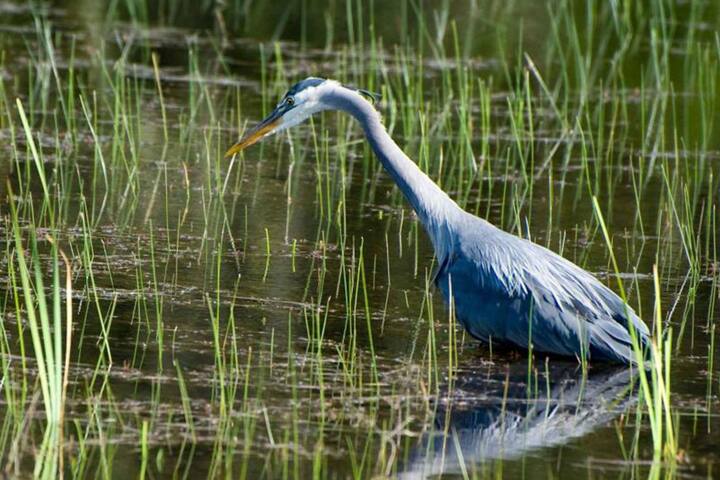 Colonial National Historic Park Wildlife
White-tailed deer graze along the edges of woodlands, bald eagles, and osprey feed their young in nests, and turtles cross the roadways. Salt marshes along the York River provide homes for fiddler crabs, while dragonflies and beavers are active around freshwater ponds. Over 200 species of birds, 40 of mammals, 90 of fish, and 50 of amphibians and reptiles, as well as hundreds of species of insects, live in the park, some all year and some seasonally.
Visitors will see abundant wildlife from the Jamestown Loop Trail and the Yorktown Battlefield Tour Roads. Overwintering seabirds and ducks bob in the York River, while winter egrets and herons fish in the freshwater marshes bordering the James River.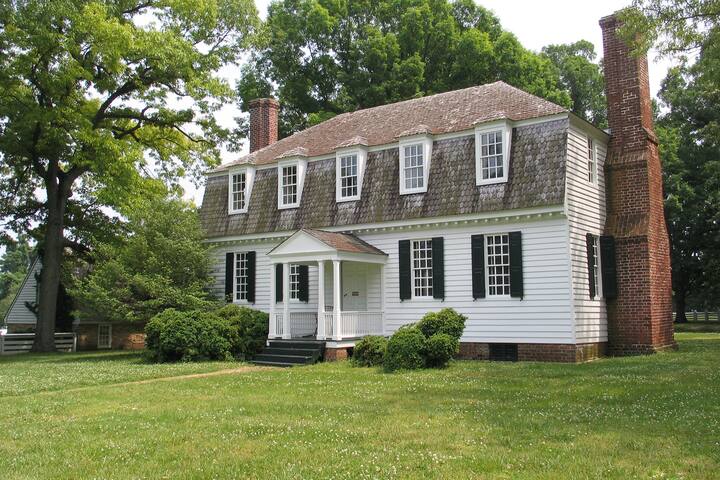 Park History & Culture
Native Americans have occupied North America for thousands of years, and archeological evidence indicates they utilized Jamestown over 10,000 years ago. The first Europeans to explore North America may have been the Vikings sometime between the 10th and 12th centuries.
In 1607, through a joint venture company known as the Virginia Company, England established her first permanent colony called Jamestown. It is from Jamestown, that, who and what we are as a people and as a nation, we trace our heritage of language, customs, and laws. The Pamunkey Indians were the largest tribe within the powerful Powhatan Chiefdom when the English arrived to settle Jamestown in 1607. Today, they are over 200 members strong and have 1,200 acres of reservation lands established through treaties signed with the English in 1646 and 1677. 
Stay with Travelodge on your National Park Adventure to Colonial National Historical Park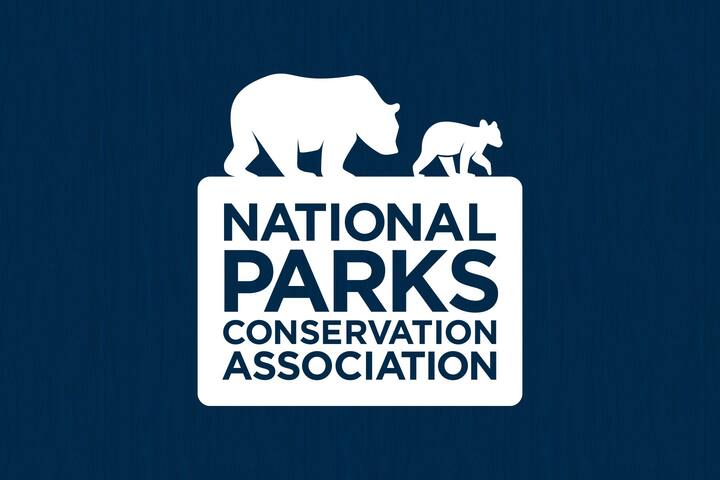 Energizing Adventure with the National Parks Conservation Association
NPCA's Mid-Atlantic staff and volunteers work tirelessly to protect this area's historic, culturally rich, and naturally spectacular parks. They are currently fighting Dominion Virginia Power's construction of 17 massive, obstructive electric transmission towers across the James River at Jamestown as well as 27 additional towers throughout the landscape. This plan would forever scar historic Jamestown, Colonial National Historical Park, the Captain John Smith Trail, and other beloved historic sites that tell our shared American story. The Mid-Atlantic Regional Office also released a report detailing the natural and human histories of two main feeder rivers for the Chesapeake Bay and how changes through the last three centuries in those rivers — the James in Virginia and the Patapsco in Maryland — have negatively influenced National Park Service (NPS) sites around the Bay and how restoration efforts in the Bay watershed will improve the park sites as well as the health of the entire Chesapeake landscape.
Click here to follow along with Sleepy's National Park Adventure on Facebook.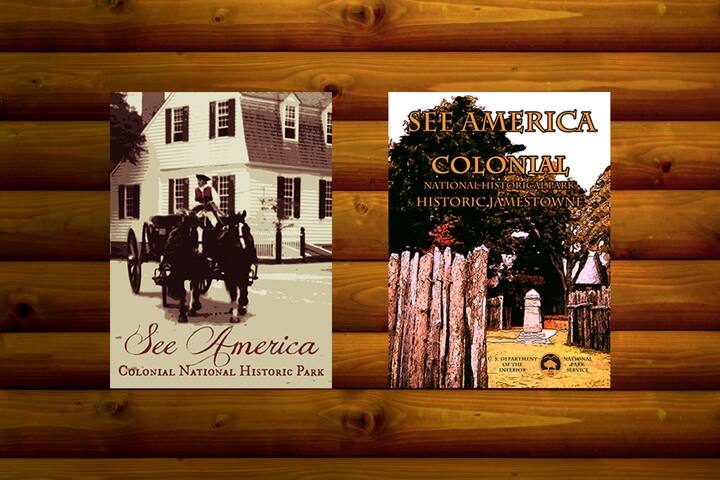 See America Artwork
Check out great artwork of Colonial National Historical Park and many more parks at SeeAmericaProject.com.
*Terms & Conditions

The Plan Ahead & Save up to 15% off your stay and Get Wyndham Rewards Bonus Points offer ("Offer") is available to Wyndham Rewards Members at participating Baymont Inn & Suites®, Days Inn®, Dolce Hotels and Resorts®, Hawthorn Suites by Wyndham®, Howard Johnson®, Knights Inn®, Microtel Inn & Suites by Wyndham®, Ramada®, Super 8®, Travelodge®, TRYP by Wyndham®, Wingate by Wyndham®. Reservation must be booked 7 to 21 days in advance of arrival date, depending on brand. New bookings only; not applicable to group bookings. Reservation must be pre-paid with a valid credit card and is non-cancellable and non-refundable. In the event of cancellation or modification, guest will forfeit total room charge plus taxes for the entire reservation. Savings are discounted from property's Best Available Rate excluding taxes, resort/service fees, incidentals, gratuities, or additional per room, per night charges that may be imposed. "Best Available Rate" is defined as the best, non-qualified, unrestricted, publicly available rate on the brand sites for the hotel, date and accommodations requested. Rooms at the discount are limited and subject to availability. Blackout dates, room type exclusions, and other restrictions may apply and vary by individual hotel. Please inquire at time of reservation.

To receive bonus points, you must be a Wyndham Rewards Member. U.S. residents who are not yet Wyndham Rewards Members will be automatically enrolled in the Wyndham Rewards Program upon completion of reservation; to void enrollment and award of bonus points, call Wyndham Rewards member services at 1-866-996-7937. Non-U.S. residents who are not yet Wyndham Rewards Members will be provided an option to enroll in the Wyndham Rewards Program at time of reservation to receive bonus points. Members should allow six to eight weeks after completion of the stay for points to be credited to their account. One stay includes all consecutive nights at the same hotel regardless of check-ins or check-outs. Wyndham Rewards Members who have elected to earn airline miles or rail points rather than Wyndham Rewards points will receive their base earning in airline miles or rail points and will receive the 100 bonus points in Wyndham Rewards points.

The Rate and its terms and conditions are subject to cancellation or change at any time. Room discount cannot be combined with any other special rates, discounts, coupons, sales promotion, or other offers. Visit www.wyndhamrewards.com for details on Wyndham Rewards Program.