Explore United States National Parks With Sleepy Bear
Follow Sleepy to Travelodge Hotels near Famous National Parks
In partnership with the National Parks Conservation Association, our ambassador of adventure Sleepy will take you along for the journey as he spends each month exploring a National Park and all of its surroundings. On his trip, he will cover the history of the park, fun facts, things to do in the area — and of course — his favorite Travelodge hotels nearby. Throughout the month of January, Sleepy will be exploring Sunset Crater Volcano in Flagstaff, AZ. 
Book up to 2 days in advance and save 15%.* Plus get 100 Wyndham Rewards bonus points.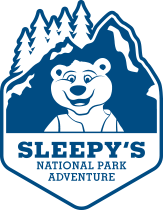 Sunset Crater Volcano
Experience Flagstaff and its spectacular views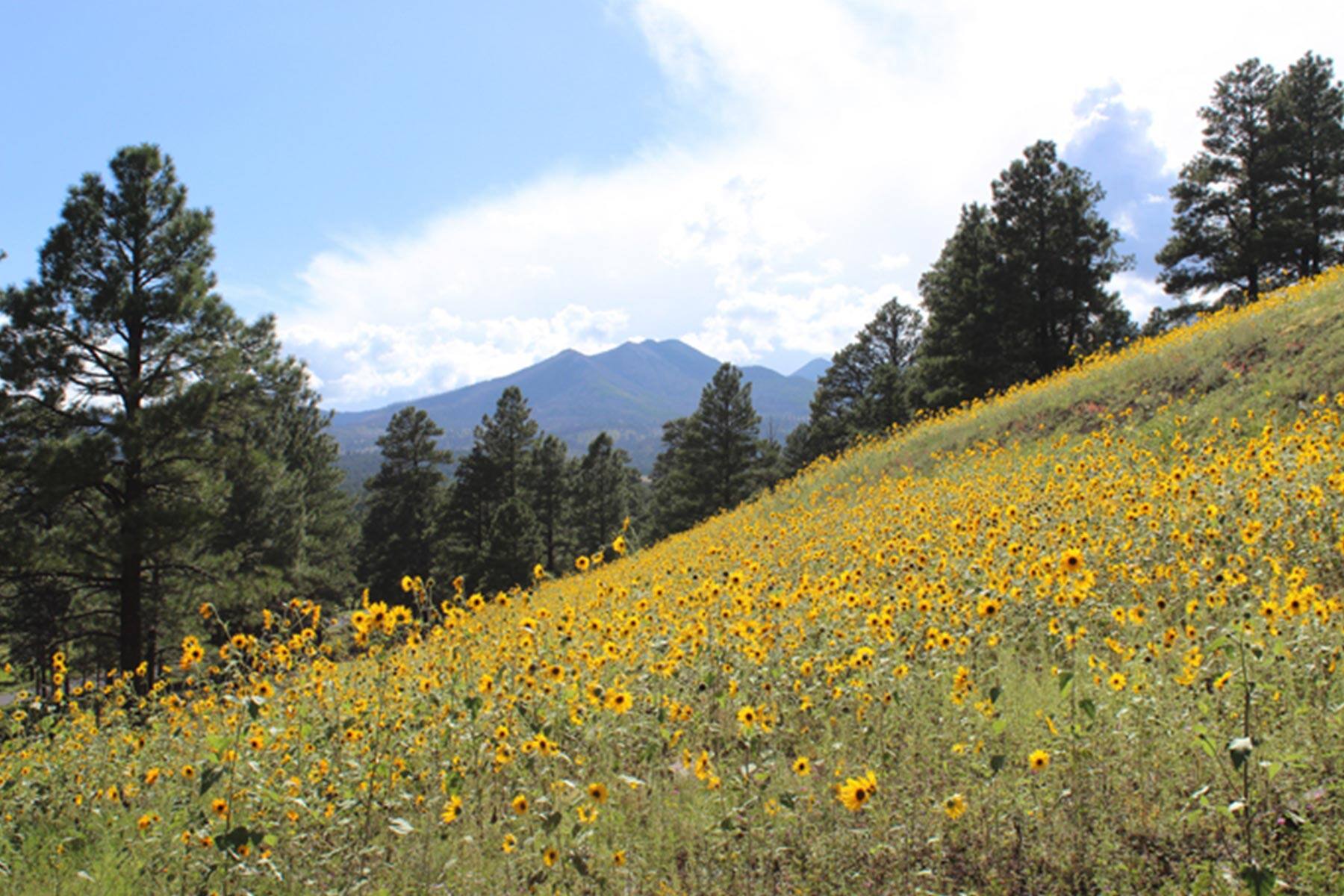 Park Snapshot: Sunset Crater Volcano Formation
This monument preserves a dramatic cinder cone volcano with colorful mineral deposits at its rim and cinder fields and lava flows at its base that erupted sometime between 1040 and 1100 A.D.—the most recent volcanic eruption in the Colorado Plateau. The park also protects more than 3,000 acres around the volcano dotted with pine and aspen trees, shrubs, and wildflowers. Hike the trail through the lava flow and cinders and you'll likely discover colorful, ruggedly dramatic geological features coexisting with twisted Ponderosa Pines and an amazing array of wildlife. 
The cinder cone we know as Sunset Crater Volcano serves as the centerpiece for an amazing display of volcanic features in and around the national monument. It shares the horizon with hundreds of other cinder cones. The processes that created Sunset Crater Volcano also created a sculpture garden of extraordinary forms around its base. Moving lava developed a crust on the surface as it cooled; caves and lava tubes formed beneath the crust as the lava drained away. Partially cooled lava, pushing through cracks, solidified into wedge-shaped squeeze-ups, grooved from scraping against the harder rock.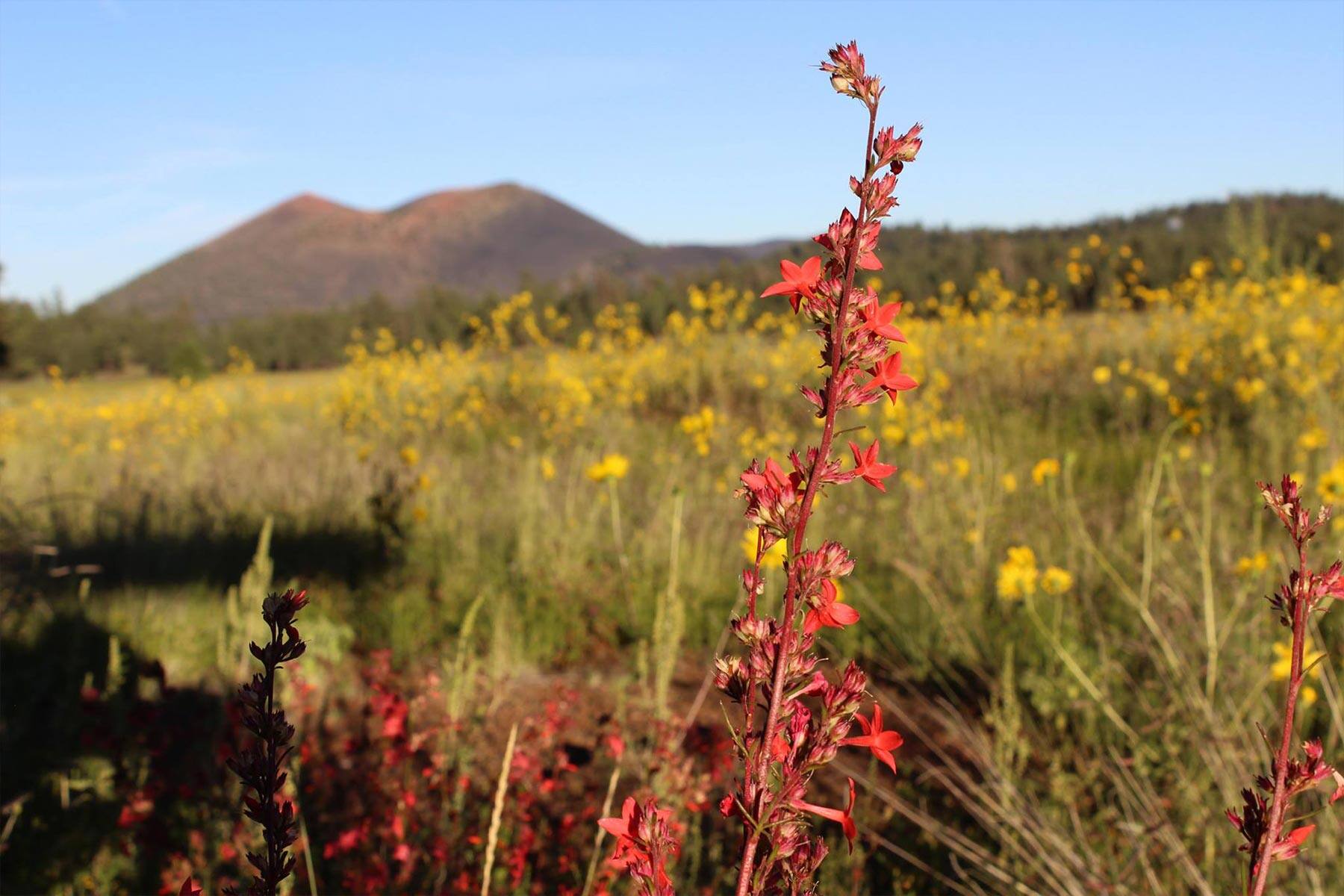 Park Wildlife
For years following the eruptions, Sunset Crater Volcano and the immediate vicinity remained a burned and blackened blast zone. Over the centuries, small unique pioneering islands of vegetation have become established and these, in combination with the volcanic features, provide habitats for a surprising array of animal life. Cavelike lava tubes and cracks in the lava flows serve the needs of insects, spiders, and rodents. Fast-moving lizards, called Whiptails, thrive in this environment as well. The Western Whiptail is Sunset Crater Volcano's most common species. Bats also inhabit some of these spaces and birds--Steller's jays, pinyon jays, blackchinned hummingbirds, white-breasted nuthatches, ravens, crows. golden eagles, and several species of hawks--can be seen and heard throughout the monument. The surrounding pine forests provide foraging habitat for mule deer, elk, pronghorn, bobcat, and coyote, and are home to a variety of small mammals, including the Abert squirrel, cottontail rabbit, and porcupine.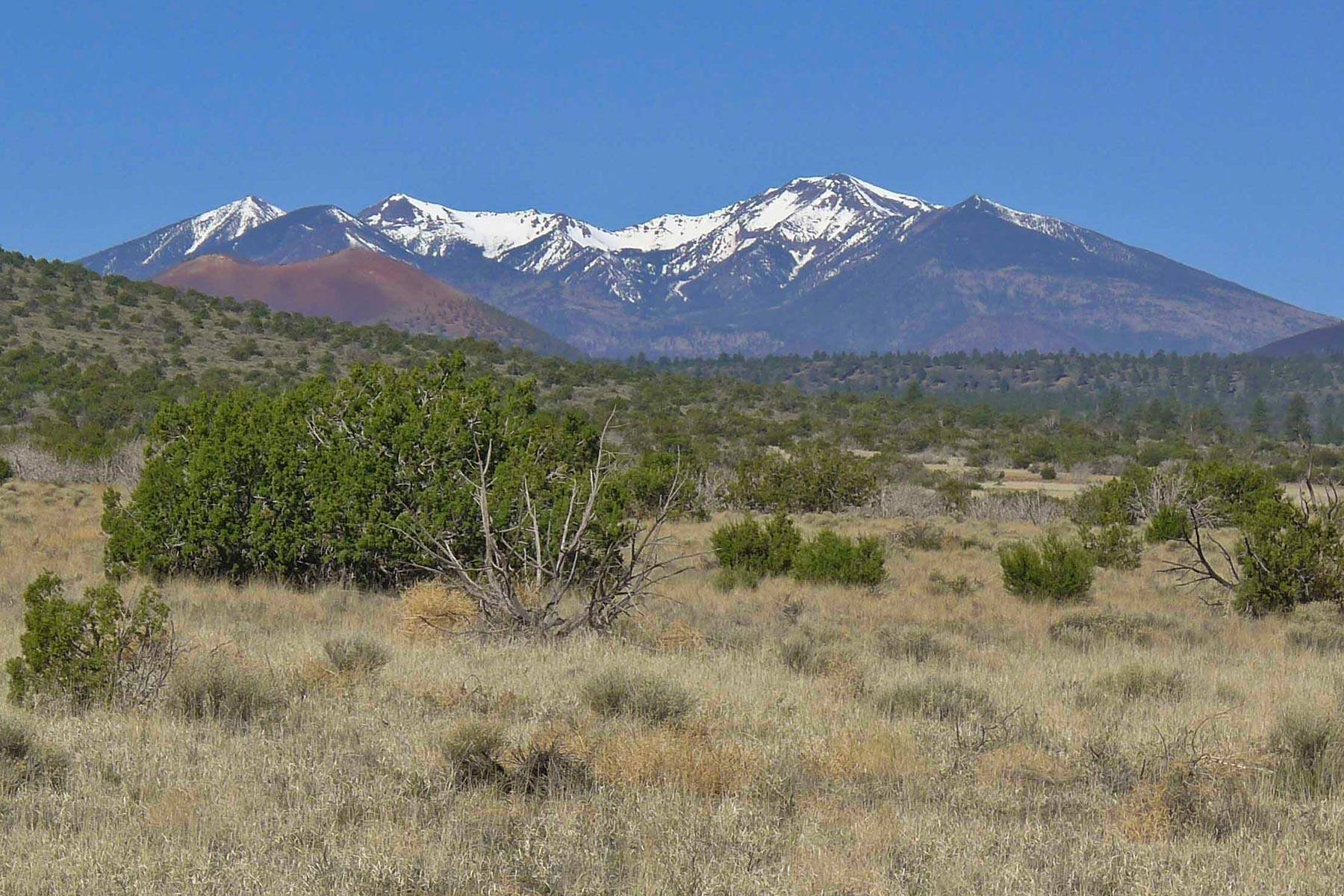 Park History & Culture
People had been living in the area for several hundred years, at least, before the volcano erupted. Although we don't know what they called themselves, archeologists consider them representatives of the Sinagua culture. They were farmers, living in scattered groups adjacent to their corn fields. Their homes were pithouses, dug partially into the ground. These people lived their lives in a landscape much like what we see today - pine forest and occasional open meadows, framed by the San Francisco Peaks and other ancient volcanoes. Then, about 900 years ago, a new volcano emerged literally before their eyes. There must have been enough warning for the inhabitants to move out of harm's way; no evidence has been found that people died as a direct result of the eruption. However, pithouses for miles around were burned and filled with cinders, and others undoubtedly remain buried beneath layers of lava. President Herbert Hoover preserved the volcano by declaring it a national monument in 1930. More than 200,000 people now visit Sunset Crater Volcano National Monument each year, to learn about this most recent eruption on the Colorado Plateau.
Stay with Travelodge on your National Park Adventure to Sunset Crater Volcano
Travelodge Flagstaff University West
Our 100% non-smoking Travelodge Flagstaff University West hotel is close to North Arizona University and downtown Flagstaff
Book Now
Travelodge Flagstaff
Near Northern Arizona University, our hotel is also located on historic Route 66, among the scenic ponderosa pines of northern Arizona.
Book Now
Travelodge Flagstaff Near I-40
Our Travelodge Flagstaff East hotel has everything you need for a comfortable, enjoyable stay. Ideally located on Historic Route 66, just off Highway 89 and I-40 and near Northern Arizona University.
Book Now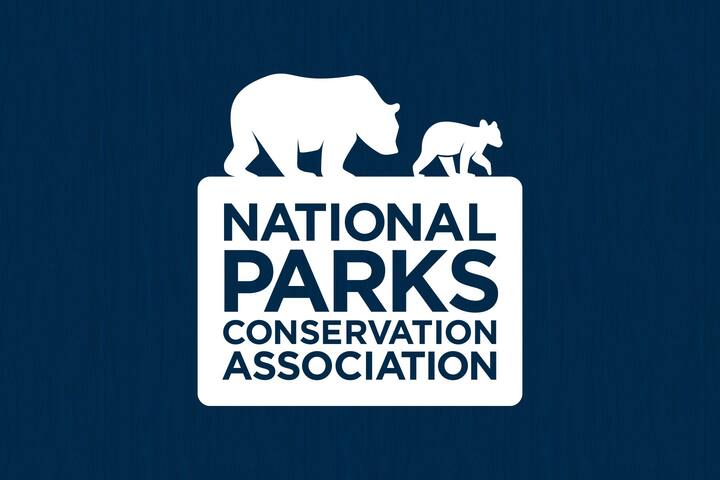 Energizing Adventure with the National Parks Conservation Association
NPCA is the independent, nonpartisan voice working to strengthen and protect America's favorite places. With the help of millions of members and supporters, the NPCA works tirelessly to defend the nation's most iconic and inspirational places for present and future generations. 
Click here to follow along with Sleepy's National Park Adventure on Facebook.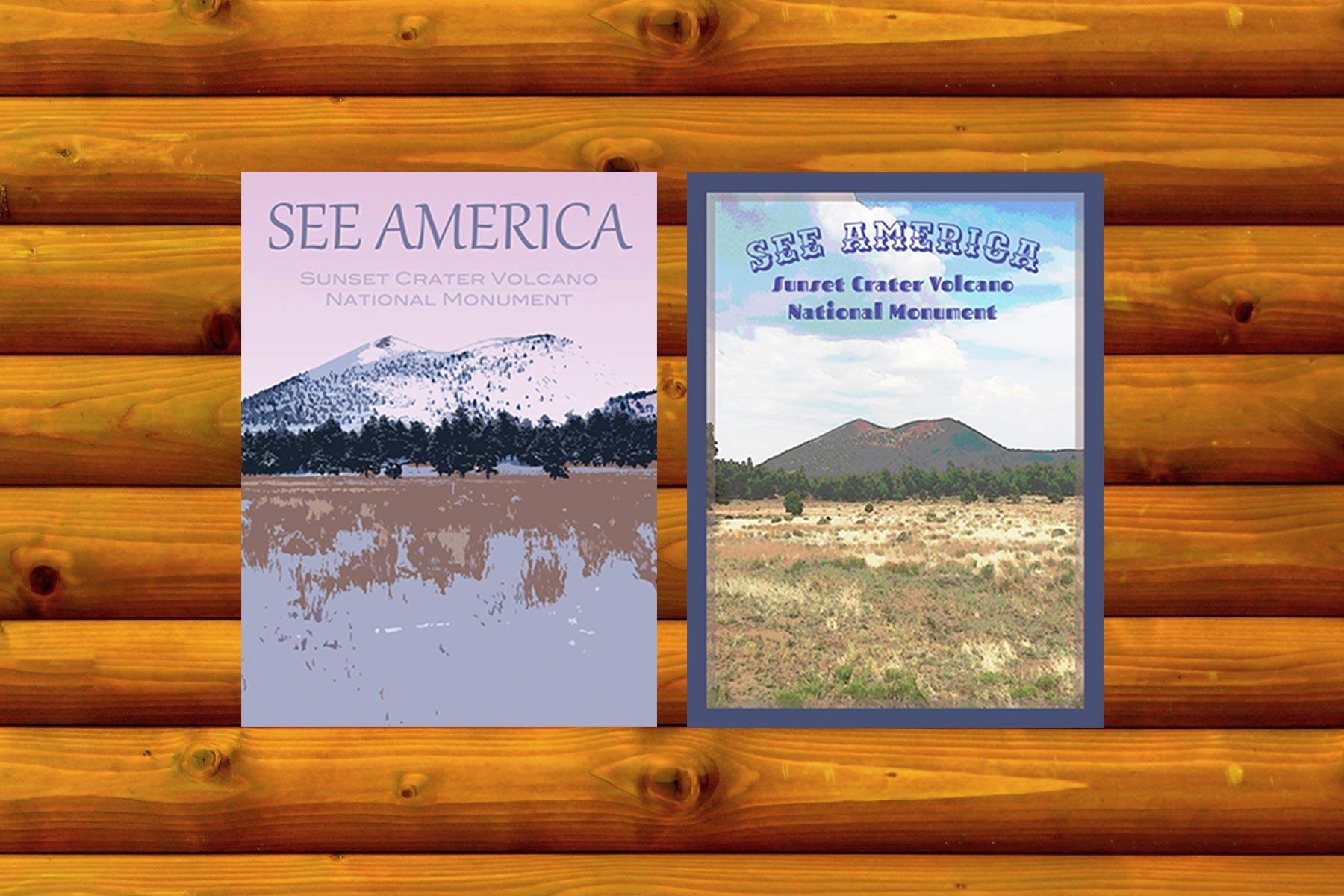 *Terms & Conditions
The Book Two Days In Advance and Save 15% and Get 100 Wyndham Rewards Bonus Points rate ("Winter Rate") is available to Wyndham Rewards Members at participating Baymont Inn & Suites®, Days Inn®, Hawthorn Suites by Wyndham®, Howard Johnson®, Knights Inn®, Microtel Inn & Suites by Wyndham®, Super 8®, Travelodge®, and Wingate by Wyndham®. Reservation must be booked between January 6, 2017 and February 26, 2017, and no less than 2 days in advance of arrival date. New bookings only; not applicable to group bookings. Reservation must be pre-paid with a valid credit card and is non-cancellable and non-refundable. In the event of cancellation or modification, guest will forfeit total room charge plus taxes for the entire reservation. Savings are discounted from property's Best Available Rate excluding taxes, resort/service fees, incidentals, gratuities, or additional per room, per night charges that may be imposed. "Best Available Rate" is defined as the best, non-qualified, unrestricted, publicly available rate on the brand sites for the hotel, date and accommodations requested. Rooms at the discount are limited and subject to availability. Blackout dates, room type exclusions, and other restrictions may apply and vary by individual hotel. Please inquire at time of reservation.
To receive bonus points, you must be a Wyndham Rewards Member. U.S. residents who are not yet Wyndham Rewards Members will be automatically enrolled in the Wyndham Rewards Program upon completion of reservation; to void enrollment and award of bonus points, call Wyndham Rewards member services at 1-866-996-7937. Non-U.S. residents who are not yet Wyndham Rewards Members will be provided an option to enroll in the Wyndham Rewards Program at time of reservation to receive bonus points. Members should allow six to eight weeks after completion of the stay for points to be credited to their account. One stay includes all consecutive nights at the same hotel regardless of check-ins or check-outs. Wyndham Rewards Members who have elected to earn airline miles or rail points rather than Wyndham Rewards points will receive their base earning in airline miles or rail points and will receive the 100 bonus points in Wyndham Rewards points.
The Winter Rate and its terms and conditions are subject to cancellation or change at any time. Room discounts cannot be combined with any other special rates, discounts, coupons, sales promotion, or other offers. Visit www.wyndhamrewards.com for details on Wyndham Rewards Program.